BEYOND THE FOOD
GREAT CONVERSATION MAKES GREAT MEALS BETTER
Bring to your table not only exquisite, ethnic cuisine but also the cultural knowledge and insight to share with and impress your friends!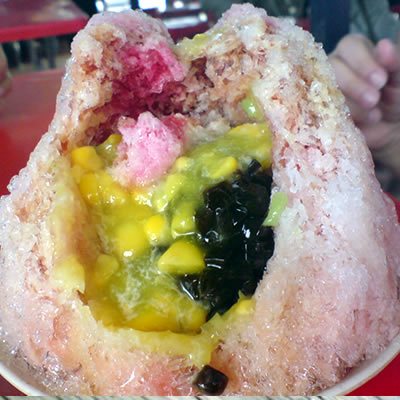 AIS KACANG
Ais Kacang, also known as air batu campur. In the Malay language, "ais batu" simply means "ice". Traditionally a special ice machine is used to churn out the shaved ice used in the dessert, originally hand cranked but now more often motorized. 

Today, ice kacang generally comes in bright colours, and with different fruit cocktails and dressings. In Malaysia, almost all variants now contain a large serving of attap chee (palm seed), red beans, sweet corn, grass jelly (cincau) and cubes of agar agar as common ingredients. Evaporated milk or condensed milk are used to top the ice and dressings, along with red rose syrup. 

Many South-East Asian coffee shops, food courts and street hawkers offer this dessert. Nowdays, Ais Kacang is mostly known as 'ABC'.