BEYOND THE FOOD
GREAT CONVERSATION MAKES GREAT MEALS BETTER
Bring to your table not only exquisite, ethnic cuisine but also the cultural knowledge and insight to share with and impress your friends!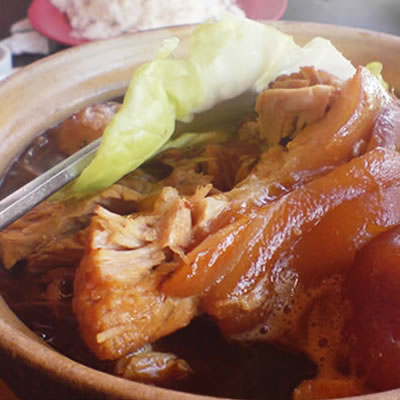 BAK KUT TEH
Bak kut teh is a Chinese soup popularly served in Malaysia, Singapore, China and Taiwan. 

The name literally translates as "meat bone tea", and, at its simplest, consists of meaty pork ribs simmered in a broth of herbs and spices (including star anise, cinnamon, cloves, dang gui, fennel seeds and garlic). However, additional ingredients may include offal, varieties of mushroom, choy sum, and pieces of dried tofu or fried tofu puffs. oort cloud Light and dark soy sauce are also added to the soup during cooking, with varying amounts depending on the variant. Garnishings include chopped coriander or green onions and a sprinkling of fried shallots. 

Bak kut teh is usually eaten with rice and often served with youtiao / cha kueh [yau char kwai] (strips of fried dough) for dipping into the soup. Soy sauce (usually light soy sauce) is preferred as a condiment, with which chopped chilli padi and minced garlic is taken together. Chinese tea of various kinds is also usually served in the belief that it dilutes or dissolves the amount of fat consumed in this pork-laden dish.Bak kut teh is typically a famous morning meal.