BEYOND THE FOOD
GREAT CONVERSATION MAKES GREAT MEALS BETTER
Bring to your table not only exquisite, ethnic cuisine but also the cultural knowledge and insight to share with and impress your friends!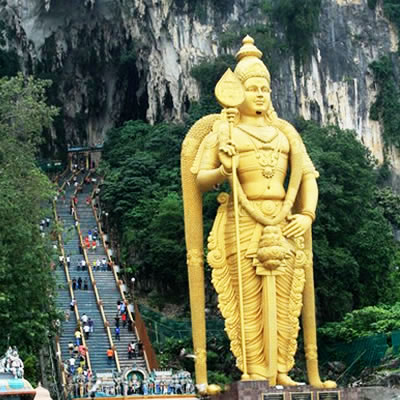 BATU CAVES
Batu Caves is a limestone hill, which has a series of caves and cave temples, located in Gombak district, 13 kilometres north of Kuala Lumpur, Malaysia. The cave is one of the most popular Hindu shrines outside India, dedicated to Lord Murugan. It is the focal point of Hindu festival of Thaipusam in Malaysia. The procession begins in the wee hours of the morning on Thaipusam from the Sri Mahamariamman Temple, Kuala Lumpur leading up to Batu Caves as a religious undertaking to Lord Muruga lasting eight hours. 

Rising almost 100 m above the ground, the Batu Caves temple complex consists of three main caves and a few smaller ones. The biggest, referred to as Cathedral Cave or Temple Cave, has a 100 m-high ceiling and features ornate Hindu shrines. To reach it, visitors must climb a steep flight of 272 steps. 

At the base of the hill are two more cave temples, Art Gallery Cave and Museum Cave, both of which are full of Hindu statues and paintings. Many of the shrines relate the story of Lord Murugan's victory over the demon Soorapadam. 

The Ramayana Cave is situated to the extreme left as one faces the sheer wall of the hill. On the way to the Ramayana Cave, there is a 50-foot (15 m) tall statue of Hanuman and a temple dedicated to Hanuman, the noble monkey devotee and aide of Lord Rama. 

A 42.7-metre (140 ft) high statue of Lord Muruga was unveiled in January 2006, having taken 3 years to construct. It is the tallest Lord Muruga statue in the world.