BEYOND THE FOOD
GREAT CONVERSATION MAKES GREAT MEALS BETTER
Bring to your table not only exquisite, ethnic cuisine but also the cultural knowledge and insight to share with and impress your friends!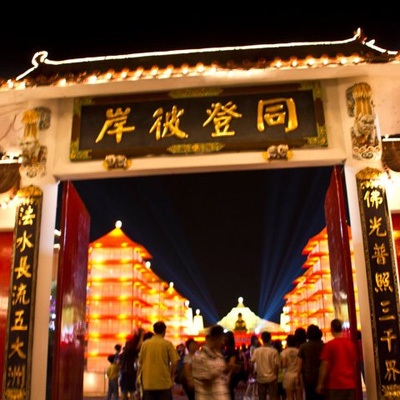 CHINESE TEMPLE
A Chinese temple can refer to any temple which is used for the practice of Chinese folk religion, a conglomeration of China's three main religions: Buddhism, Taoism, and Confucianism. 

Inside a typical temple, it is considered quite common to see elements of Buddhism and Taoism mixed together. A statue of Guan Yin may be present alongside traditionally Taoist deities such as the Jade Emperor or Mazu.

Worship in Chinese temples usually consists of making offerings to the various gods, spirits and ancestors. The main act of worship is lighting incense or joss sticks. These are generally provided to worshipers by the temple in exchange for a small donation. Worshipers generally take three or nine incense sticks and light them from an oil lamp placed beside the burner. They hold the incense sticks in both hands while bowing the head and present them as an offering to the god(s) in the temple. Larger incense sticks called joss sticks are also used in worship. Candles are also lit to the various gods. These candles are red and are made with a stick down the middle, and the stick is placed in special holders beside the incense burner, which consist of metal trays with holes in them. Larger "wish candles", which are generally colourful and made in the shape of a flower, may also be lit, and they are usually placed on a table in front of the incense burner. 

The burning of joss paper is also practiced in Chinese temples. There is a special chimney-like burner for this, either situated outside the temple or, if the temple is big enough, in the temple courtyard before the main temple.In these temples there are usually candles placed there for many special reasons. 

In Malaysia, there are many well-known Chinese temples, such as Kek Lok Si in Penang, Thean Hou Temple in Kuala Lumpur, BuddhistMaha Vihara Temple in Brickfields, and Chin Swee Temple in Genting Highlands. Fascinated by its beautiful architecture, these temples are usually a not-to-be-missed destination for foreign visitors to Malaysia.