BEYOND THE FOOD
GREAT CONVERSATION MAKES GREAT MEALS BETTER
Bring to your table not only exquisite, ethnic cuisine but also the cultural knowledge and insight to share with and impress your friends!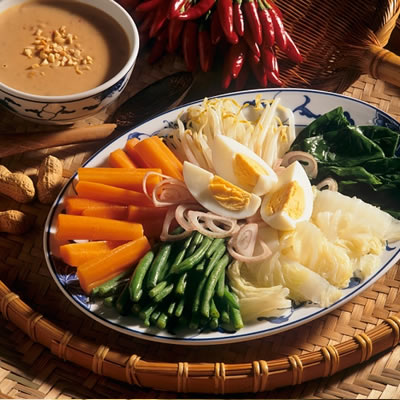 GADO-GADO
Gado-gado is a popular traditional Indonesian salad of mixed vegetables dressed with a delicious peanut sauce. The sauce is a vital part of the dish, often made in individual batches in front of customers to retain its authenticity. Gado-gado is served from hawkers' carts, street-side stalls and restaurants in Indonesia as well as other countries. 

Gado-gado is the traditional food of the Betawi, descendants of people living around Batavia (the colonial name for Jakarta) from around the 17th century. The Betawi people are descended from various Southeast Asian ethnic groups, Portuguese and Dutch plus Arab, amongst others. They are known for their music, traditions and food as well as their directness and openness to others. 

Due to its popularity, the term gado-gado is even used to informally describe things which are mixed with one another or things which are not well-categorized.