BEYOND THE FOOD
GREAT CONVERSATION MAKES GREAT MEALS BETTER
Bring to your table not only exquisite, ethnic cuisine but also the cultural knowledge and insight to share with and impress your friends!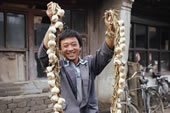 GARLIC
Garlic is ubiquitous in the art of cooking in the Middle East, northern Africa, southern Europe, and regions across South and Central America, but especially in Asian culture. It is a well-known fact that the heavily pungent herb is featured extensively in stir-fried dishes as well as in bases for soups and curries, but few realise the impact it had on Chinese literature as well. The Shi-ching – a compilation of classic Chinese poetry – mentions garlic and its importance to the country's development. 

In food preparation, garlic is used as an aromatic bed for shallow-poached items, or in sauce reduction. Roasting garlic brings out a rich, sweet and smoky taste and is a less commonly used technique in Asian dishes than it is for western fare.