BEYOND THE FOOD
GREAT CONVERSATION MAKES GREAT MEALS BETTER
Bring to your table not only exquisite, ethnic cuisine but also the cultural knowledge and insight to share with and impress your friends!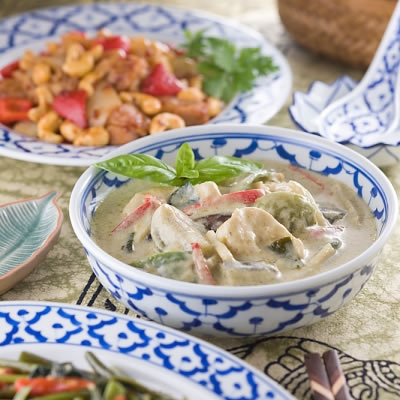 GREEN CURRY
Green curry originated in Asia and spread to the rest of the world during the Ayutthaya period when Siam open its doors to trade. Its name is derived literally from the colour of the dish, like other variants such as yellow and red Thai curries. 

Green curry can be very spicy as well but its distinguishing taste lies in its extra sweetness not usually associated with other curries. Green curry paste is made by pounding green chilies, shallots, garlic, galangal (blue ginger), fresh turmeric, shrimp past and salt. This paste is mixed with liberal amounts of coconut milk and other aromatic ingredients like fish sauce, kaffir lime leaves and Thai basil leaves to create fragrant Thai Green Curry. 

All kinds of meats can be incorporated into green curry – beef, pork, chicken and fish ball are the more popular variants. Green curry is usually eaten with a side of rice or rice noodles known as khanom jeen.