BEYOND THE FOOD
GREAT CONVERSATION MAKES GREAT MEALS BETTER
Bring to your table not only exquisite, ethnic cuisine but also the cultural knowledge and insight to share with and impress your friends!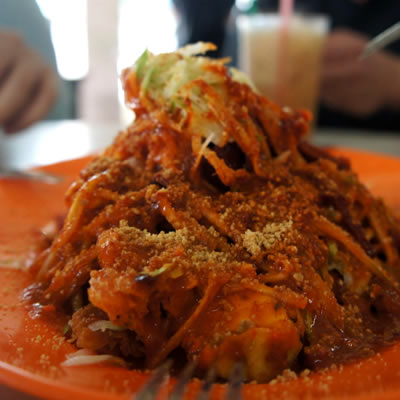 INDIA ROJAK
Indian Rojak is a traditional fruit and vegetable salad dish commonly found in Malaysia and Singapore. The term "Rojak" is Malay for mixture. In Malaysia, mamak / Indian rojak (or Pasembor) contains fried dough fritters, bean curds, boiled potatoes, prawn fritters fried in batter, hard boiled eggs, bean sprouts, cuttlefish and cucumber mixed and served with a sweet and spicy chili sauce and lazed with peanut or sesame bits. Traditionally, Tamil Muslim (Mamak) rojak vendors used modified sidecar motorcycles as preparation counters and to peddle their rojak. These mobile vendors now use modified mini trucks. The peddler's only tools would be his cutting board, a knife and the large mixing bowl. The rojak would be cut and mixed on the spot. Toothpicks or Satay sticks pierced through the first few vegetables are served as forks.

In Penang, Malaysia where it is very famous, it is always called Pasembor, but in Kuala Lumpur and Singapore it is called rojak. Today, a variation of the Rojak has multiplied as new ingredients are creatively added to the spicy, sweet and sour black sauce. More often than not, the dish is found in hawker centres, food courts and even night markets.