BEYOND THE FOOD
GREAT CONVERSATION MAKES GREAT MEALS BETTER
Bring to your table not only exquisite, ethnic cuisine but also the cultural knowledge and insight to share with and impress your friends!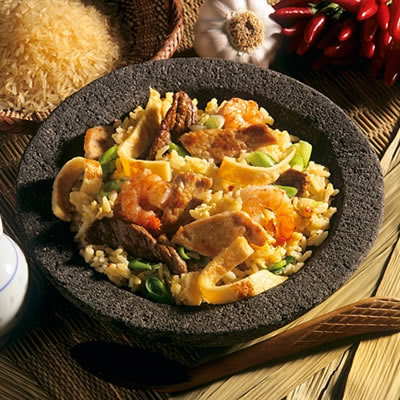 INDONESIAN NASI GORENG
There are many varieties of stir-fried rice dishes throughout Asia. This is likely due to the fact that most Asian communities consume rice as a staple, and there is a constant need to turn leftover rice into a hot, fresh, delicious meal. 

So what makes Indonesian nasi goreng different? It may be the fact that Indonesians typically like to fit all sorts of flavours and textures into one bite of food. So Indonesian nasi goreng features a large variety of ingredients: shrimp paste, chilli, garlic, shallots, lettuce, cucumber slices, tomato slices, fried shallots, prawn crackers, shredded chicken and eggs. All these create a kaleidoscope of flavours and textures with every mouthful. 

In restaurants, this dish is often served as a main meal, and accompanied by side dishes such as fried chicken, satay and vegetables. There is also a more luxurious version typically served in high-end establishments that is accompanied by more expensive ingredients such as prawns. 

Indonesian nasi goreng is an extremely versatile dish to which you can add just about any ingredient – from fried chicken to grilled beef to seafood. The next time you get a chance to try this dish, don't forget to experiment… mix and match and see which combination you like best!