BEYOND THE FOOD
GREAT CONVERSATION MAKES GREAT MEALS BETTER
Bring to your table not only exquisite, ethnic cuisine but also the cultural knowledge and insight to share with and impress your friends!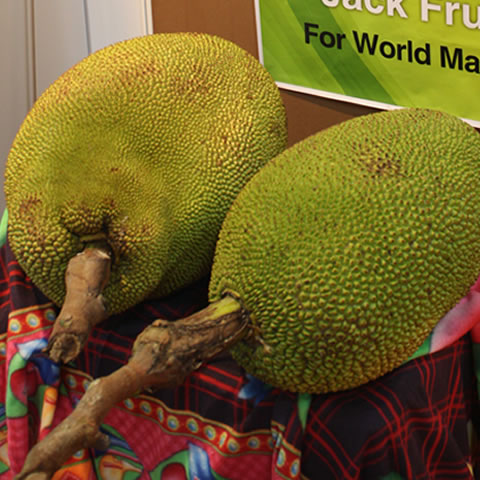 JACKFRUIT
Jackfruit is the largest tree-borne fruit in the world. It can reach up to 80 pounds in weight and 36 inches long and 20 inches in diameter. The inside of the fruit is made up of large edible bulbs of yellow, banana-flavored flesh that encloses a smooth, oval, light-brown seed. The seed The jackfruit trees are native to India, Bangladesh, Nepal, Phillipines and Sri Lanka but but also commonly grown in Malaysia
Enormous and prickly on the outside, jackfruit looks abit like durian although it is usually larger. Once a jackfruit is cracked open, what you will find inside are "bulbs". Often referred to as the seeds, these bulbs are actually a kind of fleshy covering for the true seeds or pits, which are round and dark like chesnuts. The fleshy part (the "bulb") can be eaten as is, or cut up and cooked. Even the seed can be eaten after they are steamed.
When cutting up fresh jackfruit, it's a good idea to oil your knife and hands first before cutting, as the fruit is very sticky.