BEYOND THE FOOD
GREAT CONVERSATION MAKES GREAT MEALS BETTER
Bring to your table not only exquisite, ethnic cuisine but also the cultural knowledge and insight to share with and impress your friends!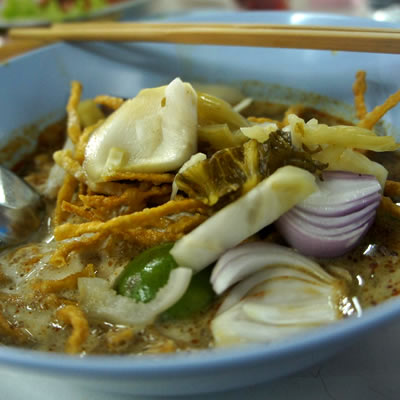 KHAO SOI
Khao Soi or Khao Soy is a Burmese-influenced dish served widely in northern Laos and northern Thailand. The name means "cut rice". As the name suggest, the rice noodle dough is laid on a cloth stretched over boiling water. After steaming, the large sheet of noodle dough is then rolled and cut with scissors.

There are two common versions of Khao Soi. Laotian Khao Soi is a soup made with wide rice noodles, coarsely chopped pork, tomatoes, fermented soy beans, chillies, shallots, and garlic, then topped with pork rind, bean sprouts, chopped scallions, and chopped cilantro.

In northern Thailand, there is a similar dish known as Thai khao soi, which is a soup-like dish made with deep-fried crispy egg noodles, pickled cabbage, shallots, lime, nam phrik phao (chilli based condiment), and meat in a curry-like sauce containing coconut milk. The curry is similar to yellow Massaman curry, but thinner. Though northern Laotians have a special way of preparing this dish, different versions can be found at Laotian restaurants. Popular as a street dish, it is eaten by Thai people, though not frequently served in Western Thai restaurants.

There is some reason to believe that the Thai version of Khao Soi was influenced by Chinese- Muslim cuisine and is therefore served with chicken or beef.