BEYOND THE FOOD
GREAT CONVERSATION MAKES GREAT MEALS BETTER
Bring to your table not only exquisite, ethnic cuisine but also the cultural knowledge and insight to share with and impress your friends!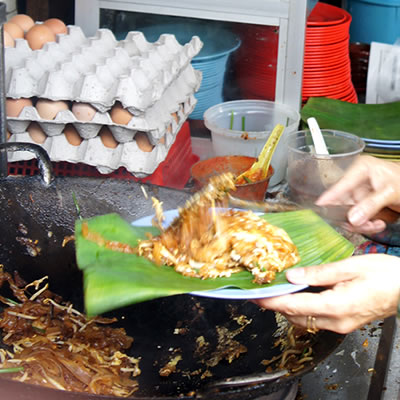 MALAYSIA CHAR KOAY TEOW
Eating street food is a favourite form of dining in Malaysia, and one of the most famous Malaysian street food dishes is char koay teow, which was believed to have been created by South-East Asian Chinese. It is essentially a stir-fried dish and its main ingredient – koay teow – is a flat rice noodle that one could describe as resembling a lighter version of tagliatelle. Translated from Hokkien, the dish's name simply means 'fried koay teow'. 

However, there's more to this dish than just rice noodles. A typical plate of fried koay teow also has cockles, Chinese chives, Chinese sausages, chilli, fish cakes, bean sprouts, prawns, eggs, dark soy sauce, light soy sauce and sinful, flavour-packed crisp croutons of pork lard. It is sometimes served on top of a banana leaf for additional fragrance. 

There are many variations of this dish that can be found throughout Malaysia and South-East Asia, some adapted to use locally-available ingredients and perhaps some adjusted to suit local taste preferences. But the gold standard for char koay teow – recognised by connoisseurs as being the best in the world – originates from the island of Penang in Malaysia. The next time you travel to this part of the world, don't forget to give it a try!