BEYOND THE FOOD
GREAT CONVERSATION MAKES GREAT MEALS BETTER
Bring to your table not only exquisite, ethnic cuisine but also the cultural knowledge and insight to share with and impress your friends!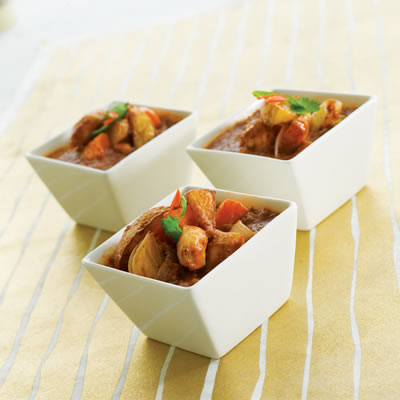 MASSAMAN CURRY
Curry can be defined as a savoury, stew-like dish native to India, Pakistan, Sri Lanka and South East Asia. Massaman curry is a southern Thai dish which is believed to be Muslim in origin as many of the dry spices were brought to Thailand by early Muslim traders. The name Massaman may be derived from the Arabic word Musulman, which is a synonym for Muslim. 

Thai curries are usually soupy, made from delicious pastes, coconut milk or water, meat, vegetables or fruit, and herbs and spices. The varying combinations make it such a delectable dish enjoyed all over the world. 

In Thailand, curries are usually eaten spooned over plain steamed jasmine rice or khanom jeen (round rice noodles), to balance the heat and intensity of the flavours. The locals pair curries with bland soups, slightly bitter vegetables and salty dishes like fried fish to achieve a harmony of flavours.