BEYOND THE FOOD
GREAT CONVERSATION MAKES GREAT MEALS BETTER
Bring to your table not only exquisite, ethnic cuisine but also the cultural knowledge and insight to share with and impress your friends!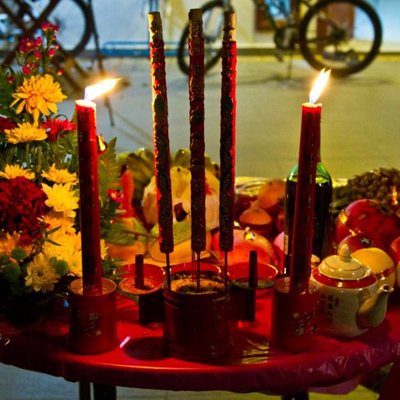 NINTH DAY OF CHINESE NEW YEAR
The ninth day of the New Year is a day for Chinese to offer prayers to the Jade Emperor of Heaven (天公, Tiāngōng). The ninth day is traditionally the birthday of the Jade Emperor. This day is especially important to Hokkiens. Come midnight of the eighth day of the new year, Hokkiens will offer thanks giving prayers to the Emperor of Heaven. Offerings will include sugarcane, incense, tea, fruit, vegetarian food or roast pig, and gold paper is served as a customary protocol for paying respect to an honored person. 

A specially alter is set up outside one's home with a wide spread of food offerings, including piglet, Angkoo Kuih, which comes in multiple colours, many shapes and varieties of filling ranging from peanut, mung bean and red bean filling, glutinous rice dumplings, red hard boiled eggs, chinese steamed cakes, mandarin oranges, yellow noodles, and chinese tea among others. These offerings are then arranged in a certain order on red tables facing the main gate and the main gate will usually be wide open. 

Bright sparks and loud booms filled up the dark night and it continuously goes on all night long till approximately 4am.