BEYOND THE FOOD
GREAT CONVERSATION MAKES GREAT MEALS BETTER
Bring to your table not only exquisite, ethnic cuisine but also the cultural knowledge and insight to share with and impress your friends!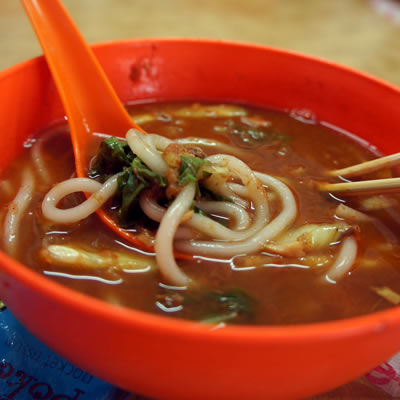 PENANG ASAM LAKSA
One dish that every tourist must try out when visiting Penang, Malaysia is the Asam Laksa. It is available at many hawker stalls and eateries throughout the island, although the most famous asam laksa stall in Penang is the one at Air Itam market. 

The ingredients used in creating this tantalizing dish are simple and can be found almost anywhere. Garlic, lemongrass, fresh turmeric, shallots, chilli paste and belacan are all grounded into a paste before starting on the broth. Tamarind paste is then mixed with warm water, squeezed and sieved into a stock pot and brought to boil. Vietnamese mint leaves, sugar, dried tamarind slices or locally known as asam keping, slices of torch ginger bud or 'locally known as bunga kantan' and the ground paste of spices are added into the boiling broth. Cleaned whole mackerel fish is then added into the stock and boiled until cooked. The fish is then removed, set to cool before cleaning off the bones and flaking its meat. The broth is simmered to reduce and intensify the flavours. The mint leaves and dried tamarind slices are removed before putting in the flaked fish meat. It is usually served with thick rice noodles garnished with sliced cucumber, pineapples, onions, mint leaves and a spoonful of thick prawn paste.