BEYOND THE FOOD
GREAT CONVERSATION MAKES GREAT MEALS BETTER
Bring to your table not only exquisite, ethnic cuisine but also the cultural knowledge and insight to share with and impress your friends!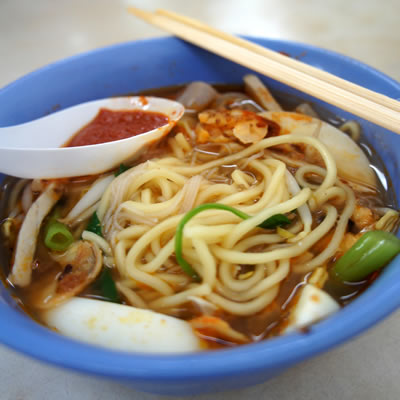 PENANG PRAWN NOODLE
Penang Prawn Noodle is the cuisine of the multicultural society of Penang, Malaysia. Mostly sold at road-side stalls, it is best known as a "hawker food". It is also known as Hokkien Hae Mee. It is a dish of egg noodles and rice noodles in a fragrant stock, which is made from fresh shrimp and dried prawns, as well as pork or chicken. Traditionally, small cubes of fried pork fat are added to the soup, but this is now less common due to health concerns. It is garnished with prawns, fish cake, leafy greens (usually water spinach or better known as kangkung to the locals), pork ribs, squid, crisp deep-fried shallots, spring onions and fresh lime. The dish is served with sliced red chili, and sambal. Sometimes depending on location if the stall sells Loh Mee or Hokkien Mee you can request for them to mix half Loh Mee sauce with the Hokkien Mee soup.

In Singapore, Hokkien mee refers to a variant of the Penang version of Hokkien hae mee. The dish uses the same egg and rice noodles used in Hokkien hae mee, but is stir-fried in lard and served dry. The main ingredients are shrimps and small pieces of sliced pork. It is usually served with lime and sambal chilli. 

* Loh Mee is rice and egg noodles in broth thickened with corn starch and beaten eggs, served with eggs (some feature duck eggs), meat slices and bean sprouts.