BEYOND THE FOOD
GREAT CONVERSATION MAKES GREAT MEALS BETTER
Bring to your table not only exquisite, ethnic cuisine but also the cultural knowledge and insight to share with and impress your friends!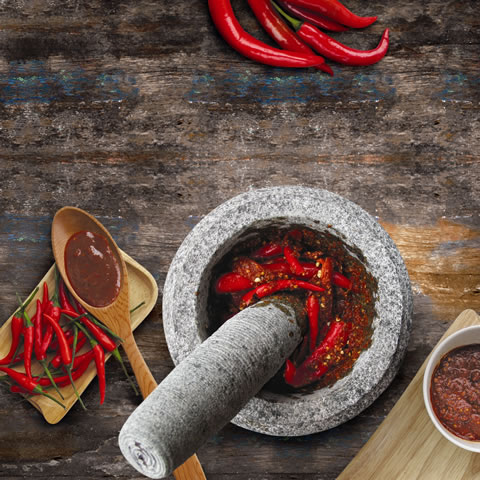 PESTLE AND MORTAR
Pestle and mortar is a tool used to crush, grind, and mix solid substances. The pestle is a heavy club-shaped object, the end of which is used for crushing and grinding. The mortar is a bowl, typically made of hard wood, ceramic or stone. The substance to be grounded is placed in the mortar and ground, crushed or mixed with the pestle.
It is typically used for grinding dried spices like whole coriander seed or other seeds. It can also be used to mash things into a paste like garlic with fresh spice leaves such as basil or mint. Used as a very handy cooking utensil, the pestle and mortar is commonly used in Thai cooking, such as making curry paste. With the use of a pestle and mortar, the crushing the fibers of herbs releases the full range of oils or moisture they contain, and gives chilli sauces and curry paste a greater depth of flavor, compared to chopping them, which causes them to appear dry. This is especially when dealing with aromatic roots, such as lemon grass, galangal, kaffir lime, basil, chives, dill, fennel, and lavender, to name a few.