BEYOND THE FOOD
GREAT CONVERSATION MAKES GREAT MEALS BETTER
Bring to your table not only exquisite, ethnic cuisine but also the cultural knowledge and insight to share with and impress your friends!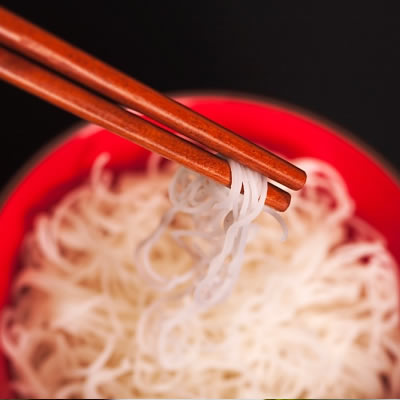 RICE NOODLES
A staple food in East and Southeast Asia, noodles are generally made from wheat flour, rice flour, or mung bean starch. The oldest noodles discovered were made from millet, an ingredient which is no longer commonly used. 

Rice noodles are made from rice flour and water without salt, although sometimes tapioca or cornstarch is added for extra gelatinous and chewy texture. These noodles cook faster than its Western counterpart, reaching al dente in 5 minutes or less. They may be cooked in moist or dry forms, boiled or deep-fried. Rice noodles come in various forms, the more popular versions are: Kway teow, flat noodles; Ho fun, wide flat noodles; Lai fun, thick round noodle; Vermicelli, thin rice noodles.