BEYOND THE FOOD
GREAT CONVERSATION MAKES GREAT MEALS BETTER
Bring to your table not only exquisite, ethnic cuisine but also the cultural knowledge and insight to share with and impress your friends!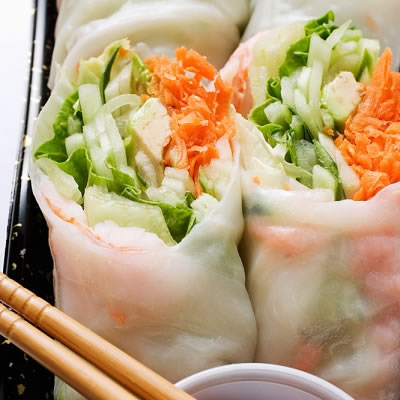 RICE PAPER
Even though paper can be made out of the stalks of the rice plant, what most people in the Western world recognise as 'rice paper' is actually made from the fibers found in the bark of the mulberry tree. 

This paper is much stronger than wood-pulp paper, and is a favourite among craftsmen and artists for use in calligraphy, origami, paper screens and more. It likely got its name from one of its many uses: the making of packets for rice. 

In terms of food, edible rice paper is usually used for making fresh or fried spring rolls in Vietnamese cuisine. Ingredients for making this food item include white rice flour, tapioca flour, salt and water. The addition of tapioca flour is what gives rice paper its glutinous, smooth texture. 

The rice paper you purchase will likely be dried and in thin, crisp, translucent round sheets. These need to be softened by being dipped briefly in hot water. Thereafter, you may use it to wrap a variety of sweet or savoury ingredients.