BEYOND THE FOOD
GREAT CONVERSATION MAKES GREAT MEALS BETTER
Bring to your table not only exquisite, ethnic cuisine but also the cultural knowledge and insight to share with and impress your friends!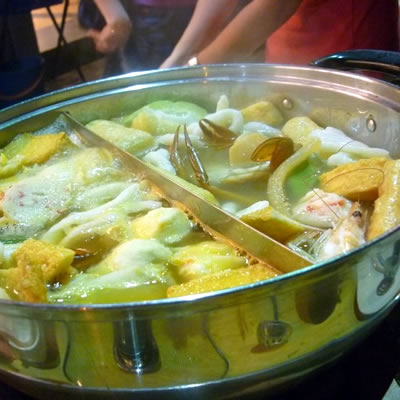 STEAMBOAT – HOT POT
Hot pot (Chinese: 火鍋; pinyin: huǒ guō), less commonly steamboat, refers to several East Asian varieties of stew, consisting of a simmering metal pot of stock at the center of the dining table. While the hot pot is kept simmering, ingredients are placed into the pot and are cooked at the table. Typical hot pot dishes include thinly sliced meat, leafy vegetables, mushrooms, wontons, egg dumplings, tofu, fish or meatball and seafood (fish and crab). The cooked food is usually eaten with a dipping sauce (either soya sauce or chilli sauce). 

A Cantonese variation includes mixing a raw egg with the condiments to reduce the amount of 'heat' absorbed by the food, thereby reducing the likelihood of a sore throat after the steamboat meal. Also popularly eaten with fried shallots. 

In Singapore and Malaysia, hot pot is widely known as steamboat, offering the variety of soup-based or tum yum soup.