BEYOND THE FOOD
GREAT CONVERSATION MAKES GREAT MEALS BETTER
Bring to your table not only exquisite, ethnic cuisine but also the cultural knowledge and insight to share with and impress your friends!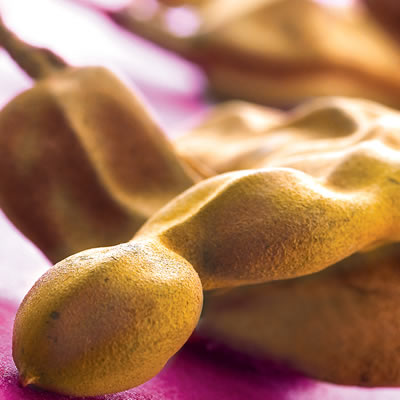 TAMARIND
The tamarind plant likely originates from tropical Africa – where it continues to grow wild – and carried into India to be cultivated thousands of years ago. It was this Indian variety that was first described by Western botanists. Its name is a derivative of the plant's Arabic name 'tamar al-Hind' which translates as 'the Hindu date'. 

The fruit is versatile and can be consumed raw or cooked or processed into different forms. It has a sweet and sour taste, which becomes sweeter and less acidic as it matures. Tamarind fruit pulp is commonly turned into jam, blended into juices and other sweetened drinks, and used to flavour sorbets, ice-creams and other types of snacks. 

Tamarind is also found in common items in Western kitchens, being an ingredient in Worcestershire sauce, HP sauce and the Jamaican Pickapeppa sauce. 

The flat, glossy, brown seeds from the tamarind fruit are used by children as playing pieces in traditional board games such as Chinese checkers and the Javanese game of dakon.