BEYOND THE FOOD
GREAT CONVERSATION MAKES GREAT MEALS BETTER
Bring to your table not only exquisite, ethnic cuisine but also the cultural knowledge and insight to share with and impress your friends!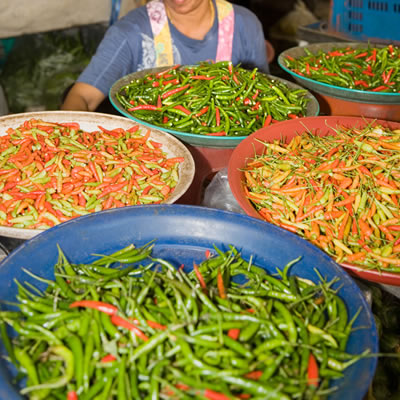 THAI GREEN CHILI
In Thai cuisine, dishes are lightly and delicately prepared with strong aromatic components. Harmony and balance is the guiding principle behind them. A typical Thai meal includes the four main tastes: salty, sweet, sour and spicy. 

There are a few main chilies generally used to create the spiciness in Thai cuisine. One of which is the green chili, suitable in use for dishes to add flavour and colour. This versatile ingredient can be used to make soups, pastes and curries, lending the exotic flavours of Thailand to many dishes. 

There are a few varieties with varying levels of spiciness – the "phrik khi nu suan" is small and the spiciest, for example, while the "phrik chi fa" which means "sky pointing chili", is medium sized and doesn't pack such a punch. 

To prepare, remove the seeds and pith from the inside and chop the flesh finely. Wash your hands and utensils thoroughly after contact.