BEYOND THE FOOD
GREAT CONVERSATION MAKES GREAT MEALS BETTER
Bring to your table not only exquisite, ethnic cuisine but also the cultural knowledge and insight to share with and impress your friends!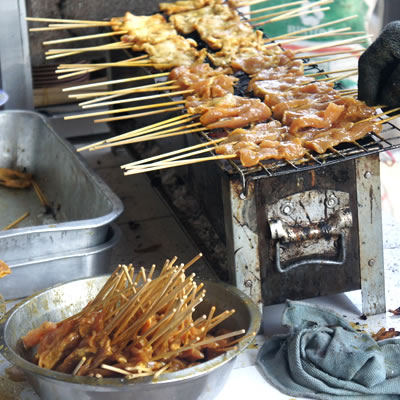 THAI SATAY
Popular Thai Pork satay, also known as "Moo Satay" is a common street food in Thailand, where it is eaten as an appetizer, snack, or main course dish. Satay originated from Indonesia and is commonly found in Malaysia too. Satay is essentially 'meat-on-a-stick', charcoal grilled and served with peanut sauce and cucumber relish. In Malaysia, it's also served with fresh cucumber, onion and ketupat (Malay rice cake). It's really easy to spot a hawker selling satay as you'll see smoke wafting from the grill. 

In Thailand, Pork Satay consists of strips of marinated pork on bamboo skewers, charcoal barbequed then served with a tasty peanut sauce and a white vinegar cucumber sauce. It's often served in Thailand with squares of toast. On the streets, Pork Satay is sold for Baht 2 each. 

To prepare the satay or pork skewers, the cook pounds together galangal, lemon grass and turmeric until it is a fine paste. Other ingredients are then added which include roasted coriander seed, roasted cumin seed, ground pepper, salt and the ever present sugar. Then it is mixed in with the pork and left to marinate for at least 30 minutes. The sauce is made with coconut milk, red curry paste and ground roast peanut. This is cooked together and then seasoned with sugar, tamarind juice and salt.