BEYOND THE FOOD
GREAT CONVERSATION MAKES GREAT MEALS BETTER
Bring to your table not only exquisite, ethnic cuisine but also the cultural knowledge and insight to share with and impress your friends!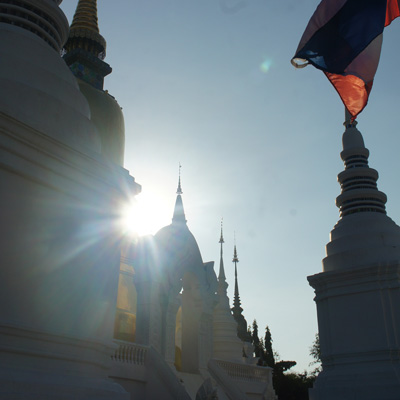 THAI TEMPLES
Thai Buddhist temple ("WAT" – วัด) is a complex comprising several distinct religious buildings. Major Buddhist ceremonies takes place in temples. They are grouped into two main groups: temples which are permitted to carry out religious functions, and those which are used only for living quarters for monks. Some ceremonies (wedding, death, building consecration) are done by monks outside the temple.

In Thailand, around 30 000 Buddhist temples are consecrated. Thai Temples have architectural differences in all Thailand areas. For example, in Thailand northern area, some temples are built with a Burmese influence, i.e. some Buddha statues are painted in white and monasteries are often made of teak (Lampang and Mae Hong Son cities). In northeastern area, Thai temples are built with a Laotian influence.

Temples are classified into two main categories: Royal Temples and Common Temples. The Royal Temples were either built by royalty or came under their sponsorship. In Thailand, there are about 200 Royal Temples though there are only six of the highest grade. These are: 

1. Wat Phra Chetuphon, Bangkok 
2. Wat Mahathat, Bangkok 
3. Wat Suthat, Bangkok 
4. Wat Arun, Bangkok 
5. Wat Phra Pathom Chedi, Nakhon Pathom Province 
6. Wat Phra Buddhabat, Saraburi Province


There are many different type of temples : temples in cave, temples in forest, temples on mountains, temples on island, temples on shores of river and so on… 

Thai temples are safe places for poor people. There they are sure to get a place to sleep and a meal also. Every visitor is welcomed to sleep one night at a temple. But if the stay is longer than three days, visitors are expected to act like monks and shave their head.