BEYOND THE FOOD
GREAT CONVERSATION MAKES GREAT MEALS BETTER
Bring to your table not only exquisite, ethnic cuisine but also the cultural knowledge and insight to share with and impress your friends!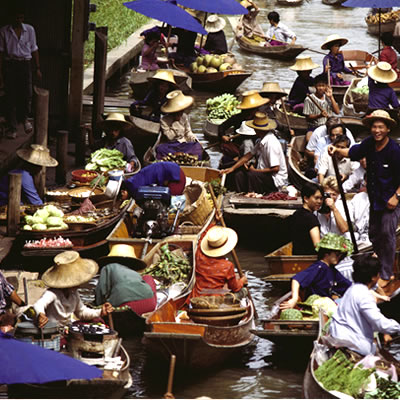 TOM YUM
While Tom Yum automatically conjures thoughts of the spicy Thai soup, it actually refers to two variants, similar in taste and appearance, from Laos and Thailand. The Royal Lao version of tom yum includes a pinch of rice in the soup, whereas the regular Laos and Thai broths are typically served with rice as a side. Thai tom yum can also be found in the neighbouring countries of Malaysia, Singapore and Indonesia.

Spicy, sweet and sour, a flavour distinctive of all tom yum, the broth is created with fresh local herbs: lemongrass, kaffir lime, galangal (blue ginger), lime juice, fish sauce and crushed chili peppers. Tom yum paste is made by crushing fresh herbs and stir-frying it in oil. 

There are many varieties of this spicy broth – tom yum nam khon (tom yum made with prawns with added milk), tom yum gai (fish), tom yum talay (mixed seafood) are some of the lesser-known variants.