BEYOND THE FOOD
GREAT CONVERSATION MAKES GREAT MEALS BETTER
Bring to your table not only exquisite, ethnic cuisine but also the cultural knowledge and insight to share with and impress your friends!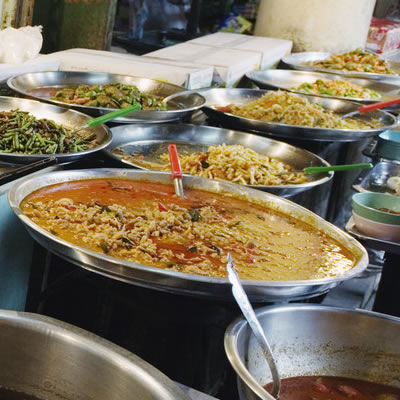 YELLOW CURRY
Curry is a staple dish in Thailand and eaten on a regular basis in many Thai homes. Yellow curry usually refers to Gang Ga-ree, which is usually richer and creamier than other Thai curries. 

It is similar to Indian curries with their use of turmeric and cumin. This particular type of curry may be confused with the spicier Gang Luang (gold curry) or Gang Pa (the yellowish elephant curry). In Muslim southern Thailand, yellow curry tends to be much spicier and has a more red-brown appearance. 

Curry is called gaeng phet in Thai. When searching for a Thai curry recipe, however, note that gaeng means liquid and can refer to both soups and curries.